Some new reports say actress Funke Akindele actually her twins via surrogacy.
Recall that it was reported that the multiple-winning actress delivered the twins, both boys at an undisclosed hospital in Los Angeles, United States, but no sooner had the news of the twins' arrival settled in than many tongues began to wag.
The crux of speculation bordered on the authenticity of pregnancy, as claimed by Funke Akindele-Bello. Most people, who prided themselves in being close to the star actress insisted that she wasn't pregnant, while others were vague in their responses to the IVF theory.
However, barely two months after the twins arrived, fresh facts have emerged on the true story behind the pregnancy and eventual birth of the twins.
According to insiders, Akindele-Bello disclosed that her twins were born through surrogate. Sources further revealed that Akindele-Bello decided to opt for surrogacy after a few failed attempts at getting pregnant. After she allegedly lost a pregnancy with twins in 2017, she was reported to have lost another pregnancy with triplet, four months after.
The sources also disclosed that Akindele-Bello, through the help of a close friend, sourced for the surrogate mother, here in Lagos, Nigeria, and not in Los Angeles, USA, as she consciously misled most Nigerians to believe. Moreover, the sources revealed that the surrogate mother was heavily paid for her service.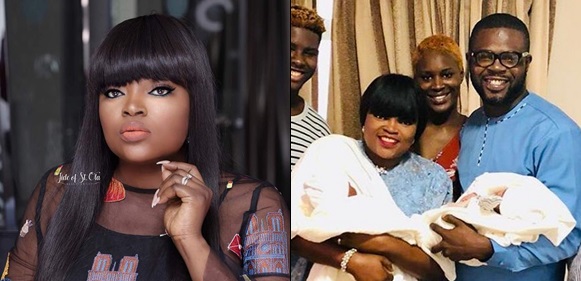 And two weeks after the babies arrived, Akindele-Bello was sighted in Nigeria, going about her business. By 11 January, her husband, JJC Skillz posted a picture of himself with the twin boys in a pair carriers, at the entrance of their home in Amen Estate, Lagos.
Recall that a Lagos based pastor, Olagoroye Faleyimu, two years ago, said that God told him Funke would not bear children.
Findings by revealed that it takes at least, three months for any woman who delivers her baby in the US, to leave the country. This is because a series of processes are usually involved, and these take a long haul, especially in facilitating passport for the baby.
A keen observer of the unfolding event, pointed out that Akindele-Bello's former lover and colleague, Femi Adebayo and his wife, Aduke, welcomed their first child together on the same day the Jenifa star act allegedly had her twins. Yet, Adebayo's wife is still in the US with her baby.
views : 7183